My Annapolis Story (In Photos)
You never forget the day you take your oath. For me, it was June 27, 2007.
Plebe Summer
Walking through the doors of Alumni Hall was one of the biggest leaps of my life, and I suspect many others. I did my research, of course, but nothing can truly prepare you for military indoctrination other than diving in. Except my grandfathers stint in Korea with the Army, I had no military family, or personal training whatsoever. To say I was winging it might be an understatement... I remember having to ask a friend the difference between a tomahawk and a torpedo (I probably shouldn't admit that...)The weeks that followed were some of the most memorable of my life thus far, and I am forever grateful for the friendships built during those long days.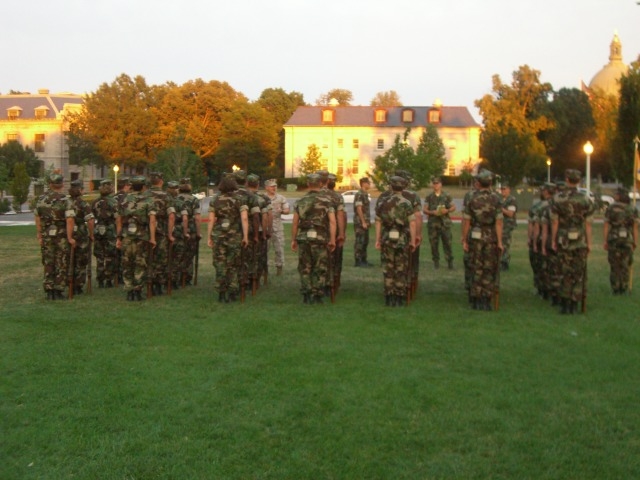 Plebe Year
There is a breath of relief when the "Ac" year begins, but with the slight increase in freedom comes a new set of challenges. School, sports, and oh yeah, a lot of uniform inspections, there is never downtime.
It does eventually end!!!!
Average Joe Midshipman
Caleb and I were your typical "Average Joes." People who knew me in high school would probably never believe that, but there are a lot of very talented and ambitious people at USNA, and I enjoyed focusing on not falling asleep in class and just being a midshipman. Honestly, I loved being average. I decided to stop swimming and had fun getting to know my company in countless parades and football march ons. We skipped intramurals to do our own thing, which was often taking advantage of "liberty" by going off the yard for a run. In reg PT gear, of course... and we never stopped for bread at that bakery. I made it my goal to never wear more than one stripe (of responsibility), because two or more meant you were carrying a sword, and sword practice was during my after lunch nap on Tuesdays and Thursdays. You know what? There was a lot of fun to be had wearing only one stripe!
It never occured to me there was more after plebe year. When you are in it, it can be pretty hard to see out of. However, right after Herndon, we all shipped out to the Fleet for our first round of summer cruise. The next three years were a blur, and a lot more fun (and in their own way, more stressful) than the previous. Let the adventures begin!
Commissioning
You are continually reminded by some poor plebe exactly how many days are left until graduation. When it finally came, it was surreal, and truly wonderful. Just like the cover toss, immediately following that day, we were all scattered. Everywhere. It may be three years later and I see a classmate in the gym in Bahrain. My dear classmate, Kevin T, said at our five year reunion, "What I'd give to just go back for one day, to walk in the halls and say hello to everyone." I'd give a lot to go back for a day.
The rest of the story
Two weeks later, getting married in Jacksonville, FL to the love and rock of my life. Shortly thereafter, we reported to our first and second ships, deployed four times, eventually moving back to Jacksonville and while on shore duty, had our first child, Eleanor. We are both out of the Navy now, but will forever cherish the memories in our hearts. Go Navy, Beat Army!